Brooches are not for your grandmother; they're coming back with a vengeance and getting the attention they deserve. Or at least that's what I would like. With my hands over my crystal ball (hopefully a crystal filled with wine will do) I predict the resurgence of Nanna's favourite accessory. The trends' already here, it's starting with the saucy little pins that are out there getting some well deserved attention but let's hope it moves on to a wider availability of mini works of semi-precious art. Something that can be handed down through the generations until the next cyclical outbreak of vintage fashion. Because, there is no other accessory that is as versatile, able to be worn in and on multiple areas and garments and equipped with the ability to transform a look with the click of a pin. So start it now, make my prediction a reality and get out the brooches hiding in dusty jewellery boxes everywhere. Or you could always get a new one and pop it on something. I borrowed a few of my favourite brooches from jewellery designer Karen McFarlane (http://www.jewellerybykaren.com/) and I'll show you what I did with them.
EPAULETTES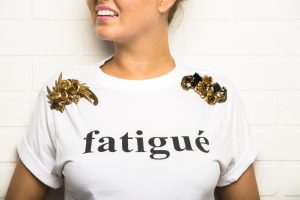 Don't assume both brooches need to be the same. Pin a brooch to one shoulder and then pin a brooch to the other. POOF! Tee transformed. And yes, I'm always tired (tee by Canadian Designer Sara Duke)
HAT
Now try it on a toque …. like this editorial I styled for Smart Magazine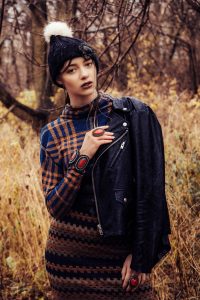 OR A HEADSCARF …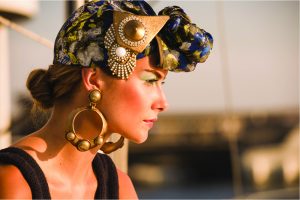 (Obviously this isn't me, it's a model named Hinson Chaplin and the pic is from an editorial I styled for Chloe Magazine)
PURSE
Why not, it just works. But don't go shoving pins into leather or their teeth are going to leave a bruise.
SOCKS
My personal favourite unexpected little brooch nook
SLEEVE
COLLAR